Jinan Zoo
December 8, 2014
Goal
One day visit to see chimpanzee facility and to give presentations.
Chimpanzees
The park received four young chimpanzees in July 2010.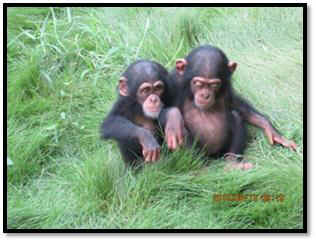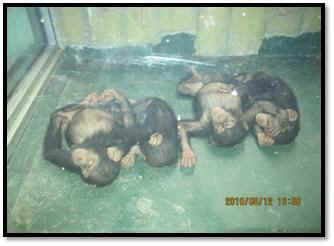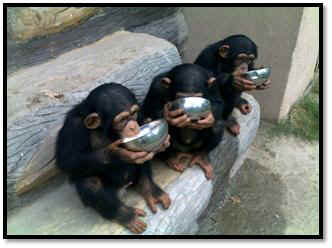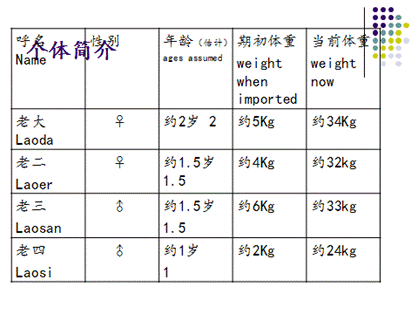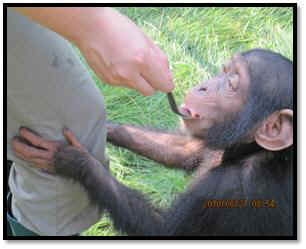 Current pictures of the chimpanzees.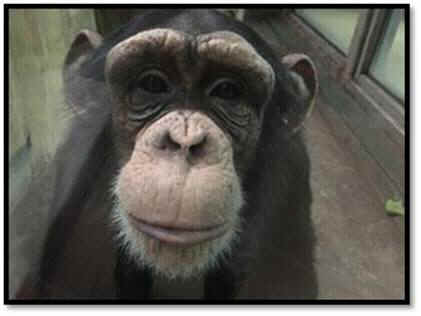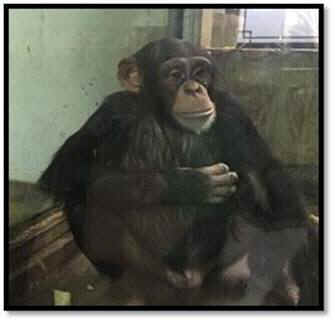 | | |
| --- | --- |
| Laosan (M, 7 year old) | Laosi (M, 6 year old) |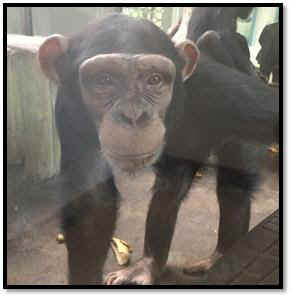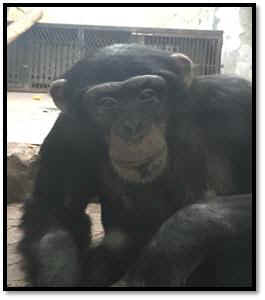 | | |
| --- | --- |
| Laoer (F, 7 year old) | Laoda (F, 7 year old) |
The facility was found sufficiently large and furnished both inside and outside.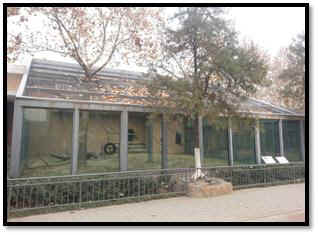 The night houses had both flexible and inflexible furniture, but they lacked substrate.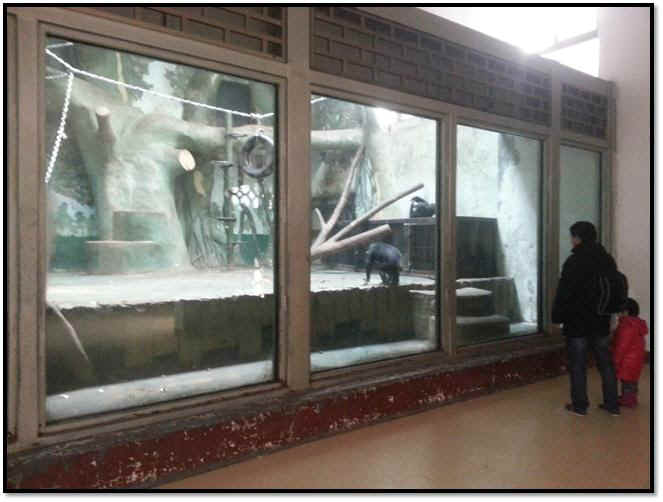 Suggestions: Begin keeping animals off of unyielding surfaces (brick, concrete, etc.). The use of appropriate substrate (inside- paper products, hay or straw, etc.; outside- nonflammable materials such as grass, sand, soil, mulch, fresh browse, etc.) will make a significant difference not only in the animals' mental and physical health, but also in the improvement of the exhibit aesthetics. Using substrate will reduce cleaning time and water consumption, as well. Soaking, scrubbing and hosing dry waste takes much longer than spot cleaning substrate due to the substrate's ability to absorb urine and cover fecal matter. Reducing hosing and partially covering surface with substrate will overcome any of these obstacles and provide animals with a soft surface. In China, paper products are toxic, but pet-safe; eco-friendly products (bags, wrapping papers, boxes, burlap bags, etc.) are available online. Please review samples:
Winter Care
Chimpanzees can be allowed outside for limited time during the winter; however, they need to have access to inside heat and provided with extra blankets. Some institutions keep to a temperature guideline and will only let their chimpanzees out if the temperature reaches 10-13 C, while others, such as Chimpanzee Sanctuary Northwest, USA, allow the chimpanzees to make their own decision. It is important to remember to provide chimpanzees the opportunity to seek warmth if allowed outdoor access during cold weather, and there might be a temperature so low that outdoor access is inappropriate. The only time they don't allow them outside is when heavy, wet snow reduces the voltage on their electric fence.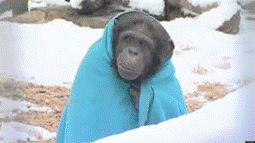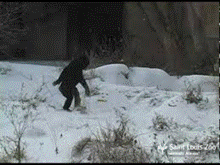 Wales Ape and Monkey Sanctuary, U.K. Saint Louis Zoo, USA
See-through curtains made from heavy-duty plastic strips can be hung inside the night houses to keep the animals warm. Management must take into consideration the type of enclosure, the animals' behavior and characteristics, the materials used, if it would prevent the animals from exiting or entering the enclosure, etc.
Suggestions: The method used by the Chester Zoo, England is simple. Strips of thick, clear ARCO PVC is cut to the length of the slide and the holes are drilled in the PVC. A strong, thick metal plate, which has the same amount of holes drilled in it, is lined up and bolted onto the wall. This makes it a lot easier to take off and replace the broken or torn PVC strips.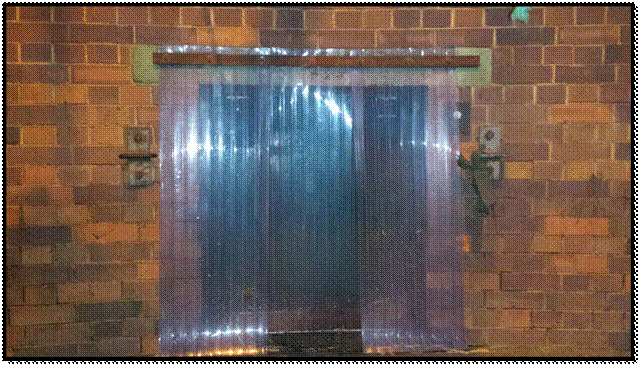 Jinan Zoo has a good enrichment and training program. Staff understands the need of infants developing proper motor skills and the exhibits have adequate furniture.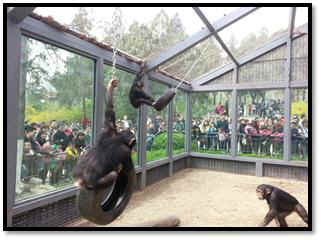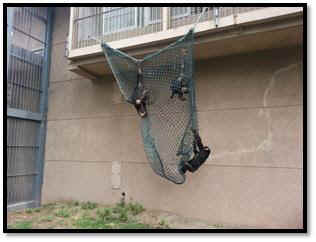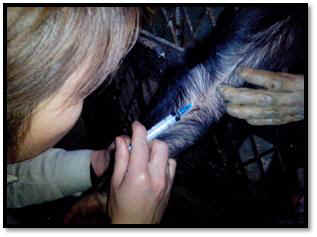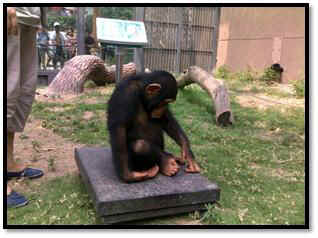 Socializing
Staff are trying to socialize the infants with humans as much as possible, which is best in their circumstances of not having adult chimpanzees available. However, these chimpanzees should not be raised by humans, because they will develop the wrong social skills and not learn chimpanzee species-typical behaviors. The lack of proper behaviors will make future introductions to other conspecifics more challenging. Additionally, infants raised by humans will not learn chimpanzee breeding behaviors. Breeding is a learned behavior, and they will need to be around adults for observing, mimicking and practicing the behavior.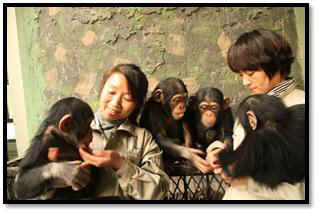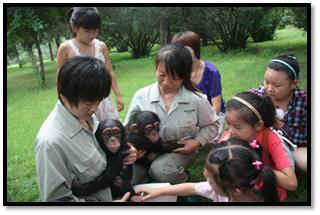 Suggestions: It would be beneficial for these young animals if they were introduced to an adult pair of chimpanzees and grow up with surrogate parents.
They should not be taken outside of their cages to socialize with the visitors either. Besides the possible transmission of diseases, it is also perpetuating an inappropriate message that chimpanzees can be kept as pets. Chimpanzees are wild animals that can severely harm humans. Each time keepers and visitors have direct contact with them, the interaction can trigger an attack. Please review pictures below of chimpanzees harming humans.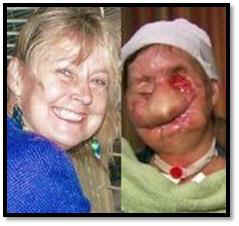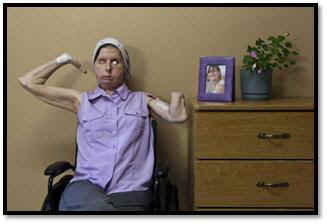 http://www.thaindian.com/images/Charla-Nash-Before-After.jpg
http://ww2.hdnux.com/photos/05/51/00/1478717/3/628x471.jpg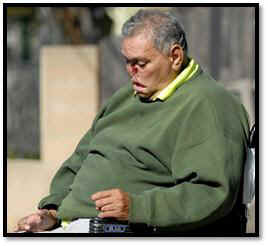 http://assets.nydailynews.com/polopoly_fs/1.391003!/img/httpImage/image.jpg_gen/derivatives/article_970/alg-st-james-davis-jpg.jpg
The following PowerPoint presentations were given:
LET THEM BE ELEPHANTS – Describes how the Phoenix Zoos' behavioral enrichment program improved our care for elephants. It also addresses proper foot care.
THE LACK OF SUBSTRATE USE IN ZOOS – Addresses the easy way to fix the issue of empty cages while improving the animals' lives by eliminating empty concrete spaces. This is probably the most important animal welfare presentation.
I would like to thank the Jinan Zoo's directors and staff, as well as the Chinese Association of Zoological Gardens, for inviting me back and continuing to improve their animals' welfare.
I would also like to thank Animals Asia Foundation for funding and organizing this trip and establishing such a wonderful, working relationship between the Jane Goodall Institute, the Phoenix Zoo and the Jinan Zoo.