Animal Care in Egypt (ACE)
October 9 through October 11, 2018
Goal:
Supervising Joint Committee of General Organization of Veterinary Services (GOVS), Egypt organized a two-day trip to Luxor to evaluate, advise and exchange information with the three free animal hospitals practicing in Luxor.
Animal Care in Egypt (ACE) is a charity dedicated to stopping the suffering of thousands of animals in the poorest communities of Luxor by providing free veterinary care and education.
The following information is partially from the institution's website.
For over 18 years the clinic has been helping local animals when they need it most. This is alongside preventative treatments and education, delivering a long-term impact on the welfare of working animals and the people that depend on them so greatly for their livelihoods. These hard-working animals often lack the most basic veterinary care. Many are neglected or mistreated due to lack of understanding or provisions. ACE has a walk-in clinic, in-patient clinic and a small animal clinic with an operating room for neutering, etc. The hospital can perform crucial surgeries and has 25 stables that allow the animals to rest from their working lives where they can recover. Besides treating their illnesses, all animals routinely receive a shower in a specially designed area. Their wounds are treated, and advice is given to owners. The wash down area for outpatients was specially designed for large animals, where owners can come and clean their animals. Dirt and sand can build up in the hair, and when horses and donkeys wear tack, it increases the rubbing and the risk of wounds. Washing their animals helps reduce the risk of harness wounds.
Severe animal abuse is a widespread practice throughout Egypt. Donkeys and horses are the livelihood of the owners, pulling carriages, transporting, selling goods, etc. Without them, the owners cannot support their family. There are many theories on why owners neglect or beat their animals unnecessarily. One speculation is that people simply do not understand that they are causing pain to their animals, or that animals do not feel pain. These animals are the means of providing for their family both now and in the future.
Therefore, we would expect them to take better care of them, but this is not always the case. In some cases, metal bits press down on an animal's tongue so tightly that it cuts into the flesh, causing the back of the tongue to become infected and swollen.
The hospital, besides treating wounds, exchanges different type of bits that would allow the tongue to heal while still providing the owners with control of their animals. Vets also cover the chains with soft, cloth material with the name/logo of the hospital on the equines' nose so that it does not cut into the flesh. It is a very smart practice, because it is advertising the hospital and it's work while improving the health of the animals. Other animals' owners see that the animal was treated at ACE and is in better health.
Sometimes, when the animal is beyond saving, the hospital exchanges a small amount of money in exchange for a signed legal agreement between the hospital and the owner. This allows the hospital and the new legal owner to then humanely euthanize the suffering animal. Just to put things into prospective, a donkey's life might be worth about 40 Egyptian Pounds ($2.23 USD) while an ice cream cost 65 Egyptian Pounds (i.e., a donkey is worth less than an ice cream).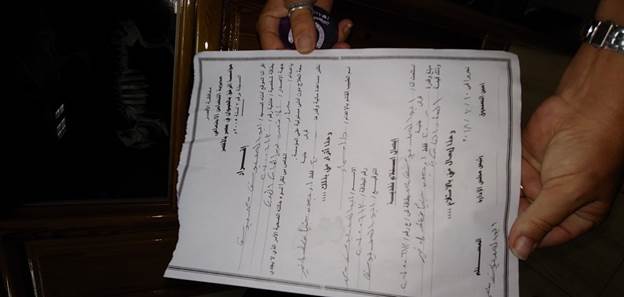 Most animals are overloaded, undernourished and worked non-stop in the relentless heat. Their owners live in such poverty that they starve side-by-side with their families and animals. Sadly, many young children are working until midnight or later begging for food or trying to sell something to make a living. In these conditions, peoples' minds harden, and they become numb. This also impacts the animal care provided, obviously.
But, it can be changed!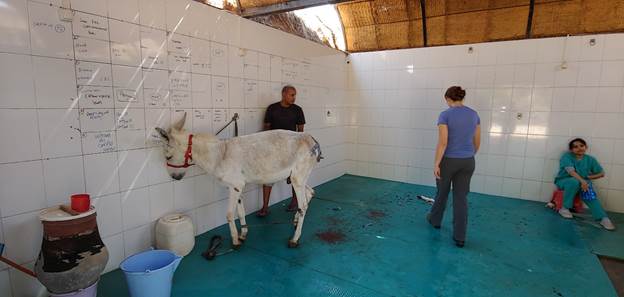 When an unhealthy or abused animal arrives to the hospital, the vets explain the issues and how they could have been prevented. This education of the owners is a very important part of the hospital's work with the hopes that the owners gain a better understanding and realization of animals and appropriate care to reduce their suffering. The owners must physically participate during the treatment.
They need to hold their animals, observe the causes of the problems, listen to the veterinarian's explanation and sometimes even take part in remedying the problem themselves under the vets' supervision so they could repeat it in the future if necessary.
Children are the future
The local teachers of the hospital educate a different class of up to 50 students from the schools in Luxor, four times a week during term time. They are taught that animals feel pain and how to care for them. They learn to be kind and respectful to all living creatures. This is vital for the long-term improvement of animal welfare in the area.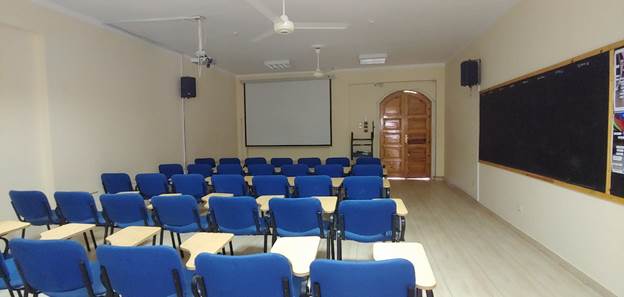 Personal notes and suggestions
ACE is doing a fantastic job under the circumstances and hardly needs advice from anyone.
Substrate
Most of the animals are in and out of the hospital on the same day. Some however, stay for weeks at a time. For those, introducing substrate to the enclosures would be much beneficial. Special attention needs to be paid to all the small enclosures (such as the dogs) where animals spend 24 hours on concrete. (The dogs are exercised each morning and once the hospital is closed for they day, they are let out within the hospital grounds to wander free until the next morning.)
Continuing to keep animals off of very hot or very cold, persistently wet, unyielding surfaces (brick, concrete, tile, etc.) would be desirable. Even during summer times, the floor needs to be covered at least partially. The use of appropriate substrate (paper products, hay or straw, grass, sand, soil, mulch, fresh browse, etc.) will make a significant difference not only in the animals' health but also in improvement of the exhibit aesthetics. (The hospital is currently fundraising for a wood chipping machine to produce their own bedding as it is scare in large quantities in Luxor. Sand and soil can not be used as many animals have wounds that would become infected.)
Toys
To prevent boredom, toys could be provided. Examples of behavioral enrichment include the following: chew toys, squeaky toys, balls, frisbees, stuffed toys, cardboard boxes, plastic bottles, etc. (ACE does encourage the owners of the boarding dogs to provide bedding and toys from their home environment.)
Bones, plastic bottles with holes and food inside and Kong toys can be used to extend foraging time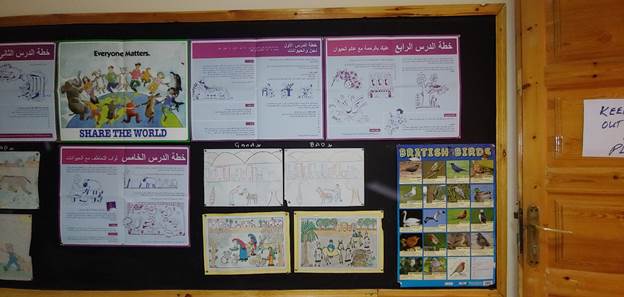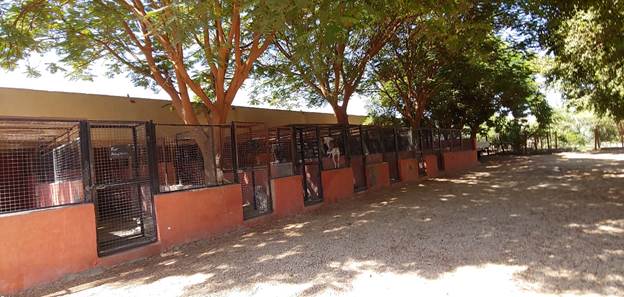 Appendix
Angel's story https://www.ace-egypt.org.uk/angels-story
One morning a truck arrived at our hospital and we were horrified to see four horses on the back, all of which had received terrible burns as the stable they were being kept in caught alight in the early hours of the morning. Unfortunately, three of the horses were beyond our help so our vets had to end their suffering. The sole survivor was a grey mare who had a huge burn on her back and smaller ones on her face.
Jeanette Elliman from the UK was volunteering with us at the time and she named the poor mare Angel as she has such a sweet personality. She was on the road to recovery until her owner came to ACE and demanded her back. Unfortunately, as she was his property and despite the advice given by our vets, the owner took her away.
​A few days later we sent one of the stable boys to go and check up on her and we were horrified to discover that Angel had been sold on.
​We don't usually buy horses, but we felt that Angel deserved a better life and would have the perfect temperament to help us in developing our education program. For that reason, we tracked her down and struck a deal with her new owner.
​We are very pleased to say that Angel is now a resident at ACE and she assists us in educating the local children and owners. She is used to demonstrate animal husbandry such as grooming and the children are amazed by the story of her recovery.
I would like to thank the Supervising Joint Committee of General Organization of Veterinary Services (GOVS) and the ACE director and staff for inviting me to improve their animals' welfare. I would also like to thank Dr. Mary Lewis for funding this trip and establishing such a wonderful working relationship between the Jane Goodall Institute, teh GOVS, the Phoenix Zoo and ACE.