GIZA ZOO
The original plan was to bring all chimpanzees from the surrounding zoos (Giza and Alexandria ) to Giza to put them together but, we needed to compromise due to practicality and animal health issues.
Both zoo directors (Alexandria and Giza) were concerned about not having chimpanzees in Alexandria Zoo. I was concerned about Moza's health and housing. Moza was isolated from the other chimpanzees so she was transferred into the chimpanzee building. Besides her tumor, Moza had a heart condition (a condition of which I was not previously aware of) and difficulty breathing when stressed; these health issues changed plans. Rather than placing her with an entire group of "strange" chimpanzees, a potentially stressful situation, we introduced her to only one animal - Kuku. He was a well mannered male by nature and it seemed to be the right choice. This one-on-one pairing was better for Kuku as well since this was the first time he ever been with another chimpanzee. Moza initially spent time hanging from high above while Kuku was completely ignoring her (looking for human contact only). After a week or so the chimpanzees began to interact and are now getting along well. Moza's tumor problem needs to be resolved. After the surgery, the tumor came back and appears to be causing her discomfort. Another option could be for the Giza Zoo to consult with Dr. Ahmed El Saiid, human expert in tumors and cancer in this matter to help with the second operation.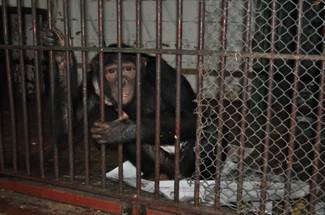 Moza
We also introduced the pair to the babies. We had limited cages available since the orangutans were occupying 3 connected cages in the chimpanzee building ideal for introductions. Therefore, the orangutans were locked outside during the day to allow use of these inside cages for the introductions. To do this, we were transporting the babies from one cage to another during the dyadic introductions.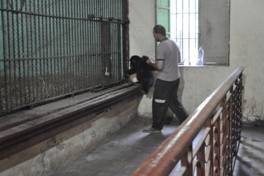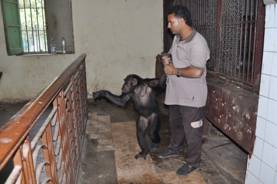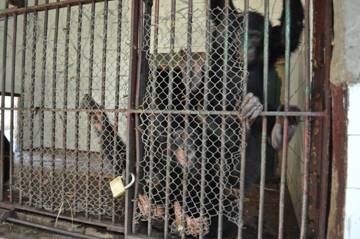 All cages lacked substrates prior to the introductions; all animals received straw, palm leaves and paper. It was challenging to convince people to do this, but then rewarding to see their faces when the animals began building nests the first time in their lives. The reason behind the apprehension against using substrate was a potential for fire where people smoked a lot and throw the cigarette butts into the cages. I suggested two things.
The first suggestion was to use the appropriate substrate inside vs. outside, meaning that inside they can use paper products and hay or straw, etc., while outside they can give sand, soil, mulch, fresh browse, etc., materials that cannot be set on fire. The second suggestion was for the zoo to modify its smoking policy, just as we did in Phoenix.
While prohibiting smoking throughout Egypt is not feasible, the zoo could create designated smoking areas (tables, chairs, ashtrays, garbage cans) for the visitors and direct them to these areas to smoke. The keepers should not smoke in front of the visitors at all and should not smoke inside the animals' night houses and/or next to the animals. Keepers need to have designated smoking areas as well, but behind the scenes, out of visitor view and should only smoke during their breaks.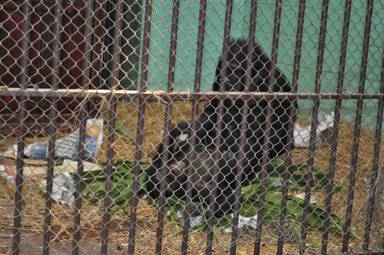 Engy and Misho happily playing in the middle of their nest.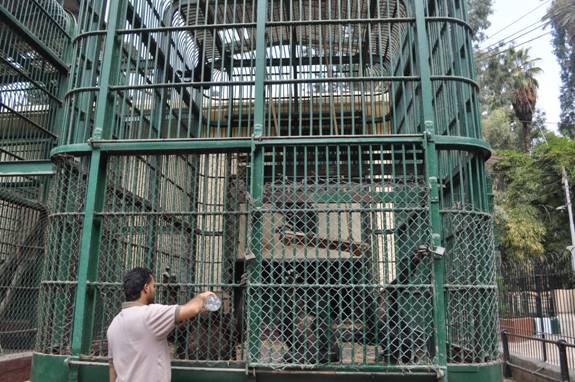 Now all the chimpanzees are together and are outside.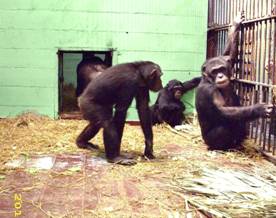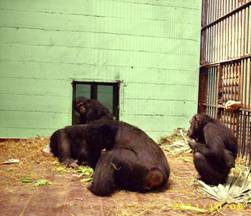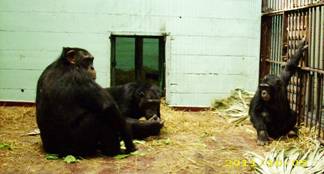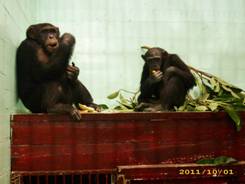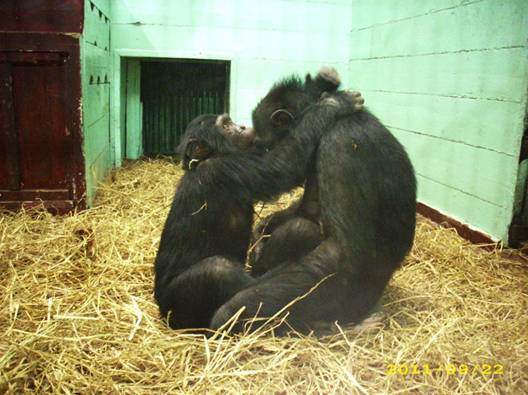 ALEXANDRIA ZOO
It is a much smaller zoo but generally facing the same difficulties.
We introduced the 3 males together (Oscar, Meshmesh and Fatuta). They became practically inseparatable; when we tried to separate them for the night, they ran to each other, hugged, walked holding each other's waist and would not depart.
Oscar, Meshmesh and Fatuta at Alex Zoo
The outside cage hammock was elevated to a much higher position.