Egypt

Egypt first visit general report

Egypt first follow up report

Egypt follow up visit

Follow up on Meshmesh

Chimpanzees

I just received the news that as per our suggestion, the Giza Zoo created a sign explaining Moza chimpanzee's tumor and the zoo's function as a recognized rescue center. This is a significant step for these people and especially for the animals for several reasons:

Ø Most of the Egyptian people by culture do not accept sick looking animals. They (instead of feeling sorry for animals or to be compelled to help them) are afraid of them, believing that they will get their sicknesses, as well and they are literally disgusted by them. For the management explaining to the visitors that it should be considered differently from now on is revolutionary.

Ø Sick animals just as Moza, were hidden in remote places, out of sight. She used to be locked up and even barricaded with metal panels so people could not see her "ugliness". Even when I was there, they were still asking me if they could transfer her back to the monkey building with her new mate Kuku so people could not see them, since Moza still has a tumor and Kuku's short limbs resembling him to a dwarf. But, because of the signage and the new directions, both animals could stay in the chimpanzee building and can go outside as well daily.

Moza barricaded in the monkey building. Now she is outside and together with Kuku.

Picture taken today 9th November at Giza Zoo

Elephants

Please see Dina's follow up:


Improvements that took place in Central Zoos of Egypt - Elephants enclosures, the Asian Elephants, now have substrates, sand instead of concrete, ... much more improvements are taking place, currently the Central Zoos are working to improve conditions of the African Elephant too.

In follow up with improvements in the enclosures of elephants at Governmental Zoos, after the success of improving conditions for Asian elephants, in which substrates (sand) replaced the concrete floors... and more foraging techniques, currently the Giza Zoo is working on improving the conditions of the African elephant, it is well known that the African Elephant "Naiima" front leg was attached to short chain since years, finally, after discussions and presentations by experts about elephants in captivity, which were held at Giza and Alex Zoo, plus Cairo Opera House, finally it was agreed to improve the conditions of the African Elephant, as seen in the picture, the elephant Naiima is no longer chained, sand is placed in the left side of the outside exhibit, plans are made to place sand in all the outside exhibit and inside exhibit.

Home
Program Information


Participating Groups


History
Research


About Data Collection


About the Query Site


About the Public Database
Log on to Research


Chimpanzee Behavior Query

Public Database
Password Required


Local Administrators Page


Data Collection Program
Education


Chimpanzee Behavior Note cards


Lesson Plans
Instruction Manuals
ChimpanZoo Data System Guide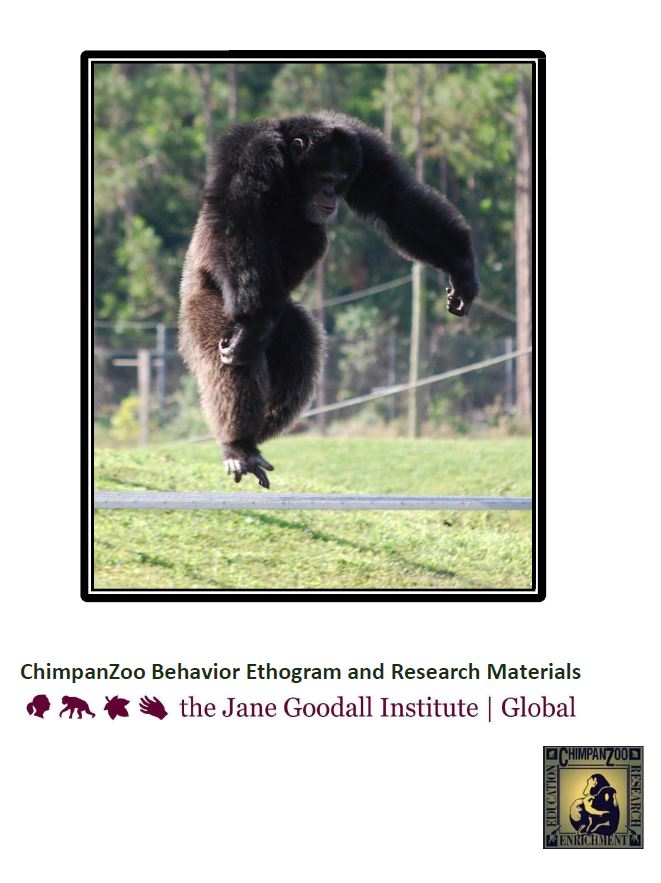 Contact Information
ChimpanZoo
the Jane Goodall Institute | Global
BWB Secretarial Limited
10 Queen Street Place
London, EC4R 1BE
United Kingdom