Communication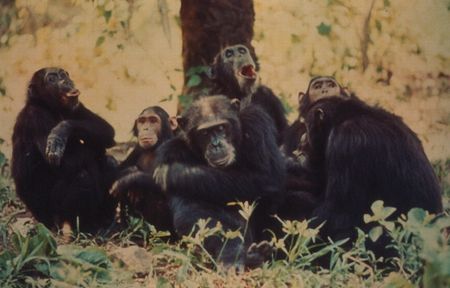 Because chimpanzees are extremely intelligent and resemble humans so closely, scientists have wondered if they could produce human language. Communication between nonhuman primates is restricted to a small number of sounds that are used for specific events or behaviors. (Recent studies suggest there may be more flexibility in their use of sounds and combination of sounds than previously recognized.) For example, a chimpanzee finds a tree with ripe fruit. It gets excited and makes grunting sounds called "food grunts" to inform the others of the location of the food. This type of grunt is always associated with food and excitement because nonhuman primate communication originates in the limbic system of the brain. The limbic system is an area of the brain area that regulates hormones, heart and respiration activity. Damage to the limbic system will result in deficits in the production of facial expressions, such as fear grins that are linked to emotional states.
The following are some of the more common facial expressions of chimpanzees:
| | | |
| --- | --- | --- |
| Aggressive | Begging or Frustrated | Excited |
| Moderately Excited | Playful | Submissive |
Chimpanzees make loud piercing calls that carry long distances to identify the individual. These particular vocalizations are called "pant-hoots". If a chimpanzee hears a pant-hoot of a stranger, it waits silently and alert to learn if more strangers are near before proceeding on its way. Pant-hoots may be voiced in a variety of emotional situations: requesting the identity of another chimpanzee, upon finding a food source, during feeding bouts, or in times of fear or joyous times, such as reunions.
Captive Chimpanzees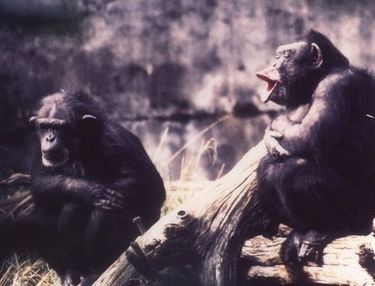 Chimpanzees in zoos can be heard pant-hooting from a long distance. However, their visual and postural communication is more subtle. It requires the visitor to approach the chimpanzee habitat and watch attentively.
Some laboratory chimpanzees and gorillas have been taught to use forms of human communication such as ASL (American Sign Language of the Deaf) and symbolic computer languages. These apes learned to form and to read several hundred signs correctly. They spontaneously invented new signs to communicate new information. Using non-spoken human language, they voiced wants, needs, and in one case, emotion. This evidence suggests that structures in the brain capable of producing rudimentary language skills exist in the brain of non-human primates.
Captive Chimpanzees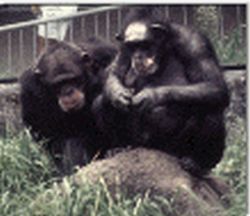 Chimpanzees have large complex brains and perform sophisticated behaviors. It is important that they live in environmentally rich habitats to stimulate mental activity and reduce boredom. In addition, the use of "enrichment" devices and activities, novel objects and foods, intellectually stimulating feeding strategies (such as hiding food in browse, hidden holes in simulated trees and other structural objects in the habitat), keep the chimpanzees occupied. Keepers and volunteers are constantly in search of new enrichment ideas to add variety to the chimpanzees' day.
Captive Chimpanzees
Chimpanzees living in zoo enclosures are also territorial, preferring some areas of the exhibit to others. Dominant chimpanzees may occupy favored areas of the enclosure while those low in rank remain at a distance. In some cases, fights over specific areas and the right to favorite females occur. Some zoos allow the chimpanzees free access to indoor and outdoor exhibits to lessen aggression. Still other zoo chimpanzees living together appear to cohabitate without any serious problems.