Depression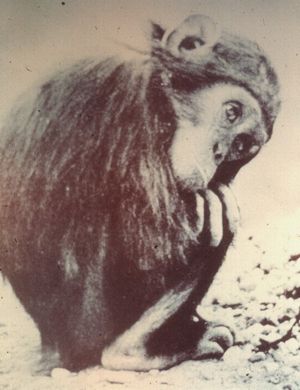 Chimpanzee children, like human children, need their mothers' care, affection, and instruction to grow up properly. Normally, a youngster continues to suckle from its mother's breast until four and sometimes five years-of-age. The sudden loss of the mother causes withdrawal and loss of appetite. Weakened, the youngster falls prey to illness, and in some cases, the youngster eventually dies.
Some orphaned chimpanzees have been looked after and protected by an older sister or another female. In one case, an adult male adopted an orphaned male and looked after him. One sterile female, Gigi, actually adopted several orphans and cared for them as if she were their natural mother.
Orphans that survive are often small for their age due to the lack of mother's milk. Other foods nourish their bodies sufficiently to keep them alive but they need to continue nursing until age five or six to grow strong bones and bodies.
Captive Chimpanzees
Captive chimpanzee infants seldom become depressed and die from the loss of their mother. Orphaned infants in zoos are usually hand-reared by a human surrogate mother. Thus infant depression is seldom the cause of death. However, a hand-reared infant must be raised using good mothering techniques, allowing the young infant to ride clinging to her back, making and encouraging chimpanzee sounds, and demonstrating appropriate postures and facial gestures. Like chimpanzee mothers, the surrogate mother must continually encourage the infant to conquer new barriers such as walking, climbing and vocalizations. And like good chimpanzee mothers, the surrogate mother must always be attentive to its safety.