The Importance of Mothering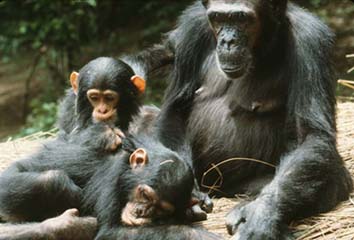 Credit- Jane Goodall
Youngsters first begin to move about on the ground and then in trees under the watchful eyes of their mothers. Chimpanzee mothers must continue feeding and close scrutiny of their youngsters until they are four or five years-old. During this time, the child learns adult chimpanzee behaviors from observing and imitating their brothers, sisters, and other members of the community.
Chimpanzee mothers develop better mothering techniques with each infant. Some mothers are more relaxed with their infants than others. Whether the mother is very relaxed or tense, energetic chimpanzee infants constantly try their patience and ability to keep up with them. They love to examine rocks and gourds and others objects of play. And they especially love acrobatic play in trees, which is very stressful for the mother.
Captive Chimpanzees
Young chimpanzees in modern zoos have an object rich environment to explore. When visiting a zoo, one can often see a very young infant climbing to great heights among tall structural beams, simulated rocks, and hanging devices designed for exercise and fun. It is a frightening experience for human observers watching youngsters cavorting about the tall areas of the enclosure. One can only imagine the fear and vexation chimpanzee mothers must experience.
In a zoo environment, youngsters are not solely dependent on their mothers for comfort and food. They are able to taste new foods, move about freely at an early age, or snuggle up for a nap with Mom or a friend in a favorite spot. Their exuberance for and curiosity about the world around them reminds us of our own childhood and those of our children.