Contact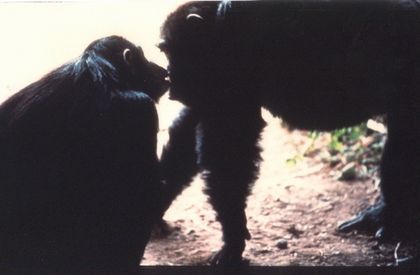 Contact is an essential element in chimpanzee behavior. It plays an important part in social situations whether the chimpanzee is excited, afraid, playing or relaxing. A pat, embrace or kiss relieves the fears and frustrations of a crying infant, lessens tension of adults involved in a dispute, and reassures cringing anxious subordinates when threatened by an aroused and aggressive high ranking chimpanzee.
Chimpanzee social and familial bonds are strengthened through long-term associations. Mothers and daughters spend a great deal of time together and often share care-giving responsibilities for infants and children. Sons grow away from their mothers as they mature but often return to visit with her, as they grow older. They have been known to intervene in disputes on her behalf, and protect her other offspring.
Social by nature, chimpanzees require the company of other chimpanzees for psychological well-being. They gather in large groups to share food, relax, and watch the children play. They spend many hours cementing their relationships grooming debris from hair. Touching is truly one of the most important behaviors of chimpanzees as it is with humans.
Captive Chimpanzees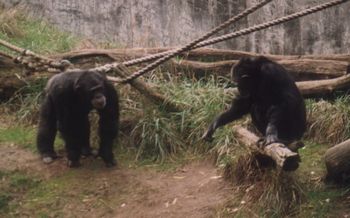 Contact whether by touch or physical presence is an essential part of primate behavior. Captive chimpanzees suffer mental deprivation and poor health when housed singly. Infants raised in isolation from other chimpanzees do not develop important social skills or understand the social behavior of other chimpanzees. Infants deprived of contact comfort and a role model to observe normal behavior develop one or more aberrant behaviors. These behaviors or stereotopies are compulsive and repetitive behaviors such as, rocking, coprophagy, head jerks, pacing, hair plucking, etc. It has been suggested that socially and environmentally deprived chimpanzees use repetitive behavior to console themselves.