Territorial Behavior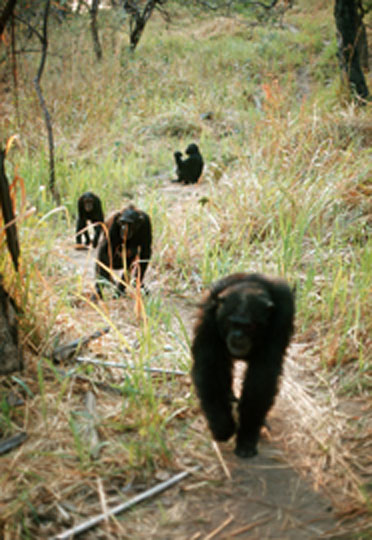 Credit- Hugo van Lawick
Until 5 years of age, male and female chimpanzees spend most of their time with their mothers. As they grow older, male chimpanzees follow along with adult males patrolling the periphery of the community. Members of the patrol look for members of another community that strayed into their area. They move cautiously across the ground in a tight group formation. They inspect the ground and leaves and tree trunks are sniffed for signs of a stranger. Patrol members stop frequently to climb tall trees, gaze, listen, and look over the area of a neighboring group. The chance discovery of a fresh night nest causes alarm. The nest is destroyed while making intimidating gestural, vocal, and postural displays. If a stranger is not encountered the patrol party returns to its home territory.
If the patrol runs into strangers, with roughly equal numbers of males, a vigorous display with vocal threats such as pant-hooting, roaring pant-hoots and waa-barks will ensue. The excited chimpanzees hurl rocks, leaves, and branches. They also drum on tree trunks, and stamp and slap the ground. If the other side responds, a series of wild displays will occur. Most of the time, after making a lot of noise, one party will retreat to their core area.
If the patrol encounters a stranger, aggression may occur. For example, a prolonged and violent territorial dispute occurred in Gombe, when the large community of Kasakela attacked the smaller community of Kahama. The result was the devastating destruction of the little community from several bloody battles.
Captive Chimpanzees
Chimpanzees living in zoo enclosures are also territorial, preferring some areas of the exhibit to others. Dominant chimpanzees may occupy favored areas of the enclosure while those low in rank remain at a distance. In some cases, fights over specific areas and the right to favorite females occur. Some zoos allow the chimpanzees free access to indoor and outdoor exhibits to lessen aggression. Still other zoo chimpanzees living together appear to cohabitate without any serious problems.