Food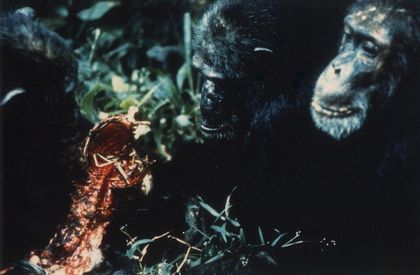 Chimpanzees spend about 6-8 hours a day foraging for food. Their diet includes a variety of foods such as fruits, seeds, berries, leaves, pith, barks, resins, and plants. Fruit and vegetable species make up the bulk of the chimpanzee diet while insects, bird eggs and meat from small and medium sized mammals provide additional sources of food. Among the mammal species which are hunted, killed and eaten are lizards, bushbuck and bushpigs, colobus monkeys and baboons.
Hunting and meat eating have been observed among most populations of chimpanzees. Hunting for monkeys, for example, usually requires the cooperation of one or more chimpanzees. The prey may be spotted moving in the tall trees then chased until captured. The hunter kills his prey with a bite to the head or neck.
Meat is usually shared. The successful chimpanzee hunter usually gives portions of the kill to those chimpanzees requesting to share. Hands and feet are used to hold the carcass securely while sharp canines are used to tear off chunks of meat. A wadge or ball of masticated leaves is chewed with small portions of meat perhaps to add flavor or to prolong the enjoyment of a favored food. The wadge of leaves is usually not swallowed. In most instances, males are more successful hunters than females.
Chimpanzees may go to specific trees and appear to be eating leaves. In fact the leaves are not chewed and digested because they are not eaten as part of the normal diet. Some leaves are believed to be used for medication. For example Dr. Eloy Rodriguez of Cornell University believes that the Aspilia plant is used by chimpanzees to treat fungal infections (see Eloy Rodriguez, Zoopharmacognosy).
Captive Chimpanzees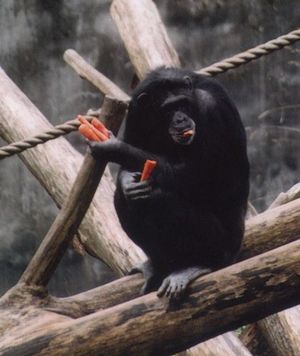 In zoo habitats, chimpanzees do not need to travel long distances looking for food. Their food is provided for them. However, modern zoos no longer feed chimpanzees once a day, instead they are given smaller amounts of food several times a day. Seeds, raisins and other preferred treats are thrown in the browse covering the habitat floor or in the grass in the outside enclosure. Hunting for treats in the browse occupies the chimpanzees for hours.