Submission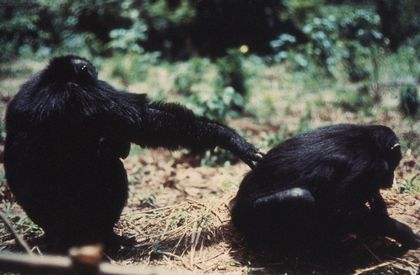 Male chimpanzees that are the victim of aggression often avoid further conflict by submissive behaviors. Female chimpanzees attacked by more dominant females and dominant males often seek the same type of end to conflict and reassurance from their aggressor.
A submissive chimpanzee lets the aggressor know that he or she is not a threat through non-threatening postures such as presenting their back, crouching and bowing in front of the threatening chimpanzee, or bobbing. The submissive chimpanzee will approach the dominant chimpanzee with a fear grin on its face. It is attempting to present itself to the hostile chimpanzee as small and non-threatening. The aggressor will in turn allow the victim to move closer to him. Often he will gently touch the other chimpanzee's back, arm, or hand.
The initial contact is a very important part of the reassuring process that lessens the fearful chimpanzee's tension and excitement. Submissive postures and gestures are often accompanied by vocalizations such as grunts, squeaks, whimpers, or screams depending on the amount of distress the chimpanzee is experiencing.
Captive Chimpanzees
Visitors standing in front of a chimpanzee exhibit may see an obviously frightened chimpanzee being threatened or attacked by a highly aroused angry chimpanzee. The victim uses the same submissive gestures as wild chimpanzees to avoid being attacked. Unlike wild chimpanzees, a zoo chimpanzee cannot easily escape from harassment or open aggression. Some zoos lessen the possibility of injury from bouts of aggression by giving the chimpanzees a "choice" of being in the indoor, outdoor or holding area. The incorporation of "hide space" in modern exhibits also helps to lessen aggression.