Dominance Displays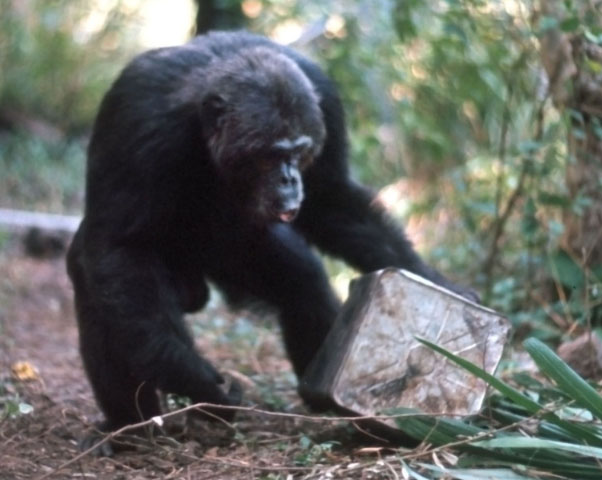 Mike with oil can – Credit Hugo van Lawick
Dominance displays occur when a male (or female) is attempting to intimidate a subordinate or to gain rank. A typical dominance display begins with the chimpanzee standing up straight with hair bristling (pilo-erection), shoulders hunched, and a compressed lips face so that his body looks larger and his face meaner. The displaying chimpanzee will start to sway back and forth, shoving brush and other vegetation out of the way with exaggerated movements. The excited chimpanzee may also hurl large rocks, tear off tree branches and drag them while running rapidly down a hill or toward a screaming potential victim. The cowering, subordinate chimpanzee may choose to use one of many forms of submissive behavior to pacify the angry aggressor. While dominance displays don't usually erupt into full scale fighting, those chimpanzees that don't get out of the way fast enough are likely to be slapped.
Among the 50 or so members of a chimpanzee hierarchical community, one adult male is recognized as the highest ranking or "alpha" male. While several males may exercise dominance over other males, the alpha male is dominant over all the members of the community, male and female. He attains his high-ranking position through intimidation, strength, and at least on one occasion, by exercising his intelligence.
There is no equivalent to the alpha male among female chimpanzees. Most females are of low dominance rank, but a few females do appear to exercise dominance over others. Very few females are recognized as being of high dominance. High-ranking females may provide their infants and young children with some immunity from the anger of other mothers whose children they have been fighting with or made angry.
Captive Chimpanzees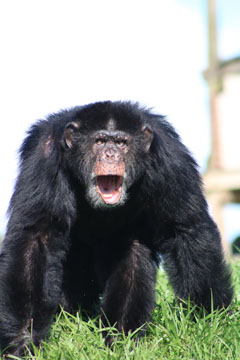 Higgy Credit- Lion Country Safari
Chimpanzees in zoos have a variety of objects to incorporate into their dominance displays to create an illusion of greater size and strength. A zoo chimpanzee can create a grand spectacle for the captivated viewing public by making use of swinging ropes, enrichment objects found in the enclosure such as bags, balls and boxes and the high beams, towers and multi-levels of a modern exhibit to intensify the power of his display. Excited chimpanzees slap, stomp or jump on large glass viewing windows that separate them from a fascinated public. Often the displaying chimpanzee runs wildly down a man-made hill or around the enclosure while banging and kicking on walls and objects to the thrill of the viewing crowd. This noisy fuss known as a display, usually ends in a peaceful resolution like those of their wild cousins.