Chimpanzee Adolescence and Gender Specific Roles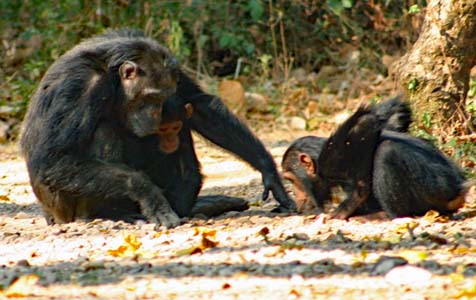 Credit- Eric Matthews
With early adolescence, 8-12 years of age in males and 8-10 years of age in females, chimpanzees begin to show significant differences in their behavior. Males spend more time with adult males patrolling the perimeters of their home territory, to detect and pursue chimpanzees of other communities. Females remain close to their mothers and begin to show adolescent swellings that signal the reproductive status of the female to males. Young females learn to be mothers by watching their mother and helping her with younger siblings.
At 13-15 years of age, late adolescent male chimpanzees spend most of their time with adult males and females in estrus (sexually receptive), remaining peripheral to the main body of the community. During this period of time, young males attain dominance over all females. Late adolescent chimpanzees, 11-13 or 14 years of age, begins with the onset of estrus cycles and adolescent sterility and ends with females being able to successfully reproduce. Consortships, the distancing of a male and female from the group for sexual privileges, first occur at this time. Some females transfer to another community for a brief period of time, and reproduce with males in that community. Returning females are often pregnant or carrying an infant.
Chimpanzees are mature at 16-20 years of age. Old age begins at 33 years of age in the wild. We now know wild chimpanzees live to be much older than first thought. Wild chimpanzees may live to be 40 or 50 years old or more.
Captive Chimpanzees
Just like wild chimpanzees, young chimpanzees living in zoos must learn to be mothers and leaders from observing and interacting with members of their family and social group. However, chimpanzees mature earlier in captivity and live longer lives. Old chimpanzees continue to contribute to the community. They are caregivers for the young, respected members of the political hierarchy, and often keep peace among the group members or act to restore group harmony after an act of aggression.