Chimpanzees Are Individuals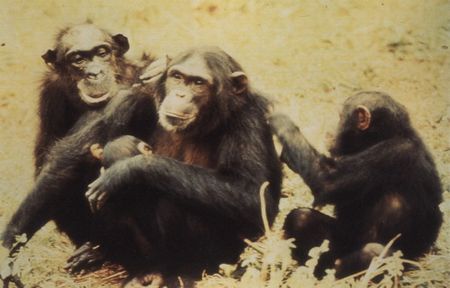 Flo (1929-1972) and Fifi (1958-2004)
When Dr. Jane Goodall first met Flo, she was already an old female. Flo was easy for Dr. Goodall to pick out of a group of chimpanzees. She appeared to be very old and frail with thinning hair, teeth worn down to the gums, a huge bulbous nose and ragged ears. However, appearances can be deceiving because Flo was actually outgoing, tough and aggressive. Among the members of her community, Flo was a high ranking female who was confident and relaxed with high-ranking males that intimidated other females.
The matriarch of a large family, three sons and two daughters, Flo could often be seen traveling the forest with a shy and nervous older female, Olly, and their offspring. She was a tolerant, assuring and relaxed mother. Flo often joined in the frolicking play of her youngsters. A typical family scene would find Flo lying on her back with one foot suspended in the air, dangling her infant, as she tickled its neck and groin with her fingers.
Flo's family gained an advantage from her high ranking position and her strong character. In early adolescence, Flo's son, Figan, began to challenge other young males for higher rank. Flo supported his cause and through a series of battles, Figan dominated all the young males. In his next conquest, Figan was joined by his brother, Faben. Together, the brothers were victorious over all the adult males and Figan attained the status of the most dominant male or alpha male. Flo's early collaborative support with her son surely taught Figan the benefit of strong family ties.
Flo and her daughter, Fifi, contributed to our knowledge of chimpanzee maternal care. Like her mother, Fifi, was a warm, playful, and patient mother. The strong family bonds between Flo, her sons and one surviving daughter continued into her old age. When she died, Flo, was eulogized in Britain's Sunday Times.